Body Wrap Certification Kit (13)
ORDER ONLINE BELOW OR OVER THE PHONE!
1-888-612-3886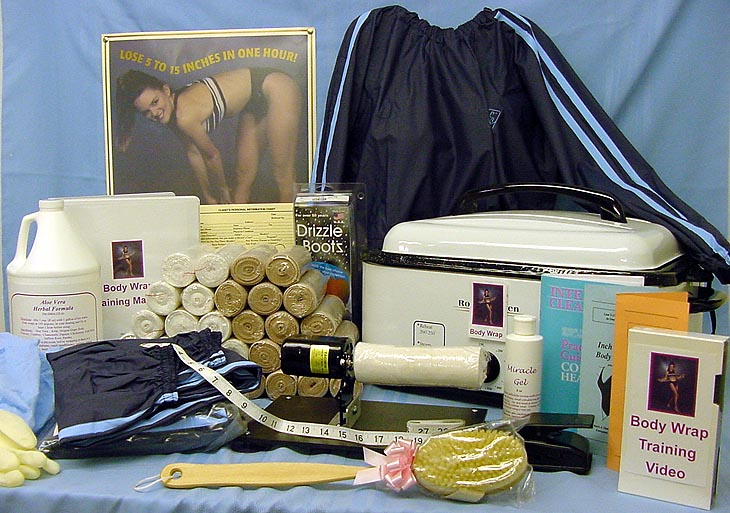 * the photo above is a stock photo and does not depict every item you receive in this package. Please refer to the list below for EXACTLY what you expect to receive in the box.
$699
Body Wrap Certification Kit
~Start your own body wrap business with this low price package which includes the "heating unit " to soak your wraps in our special formula's. Now you can offer the same body wrap spa recipes of high priced salons in New York City, Beverly Hills, and Palm Springs. Your clients will lose 5-15 Inches in one body wrap plus experience a cleansing and detoxifying wrap any one of our 99% pure Aloe Vera recipes which includes our "collagen enriched" formula for skin repair, or the "herbal" recipe which has over a dozen various healthy herbs to help detox your body. With the Sea Clay and Sea Mud formula they will experience an all over pulling and tightening effect. This kit has enough formula for 500 complete treatments, typically five times more than our competitor's for the same price. This kit includes:
1 gallon of Aloe Vera Collagen Formula

1/2 gallon Seaweed Clay Type formula

1/2 gallon Sea Mud formula

1 gallon Dry Mineral formula (Our Power Wrap)

1 Body Wrap Warming Oven (Heating unit to hold your wraps)

32 Ounces Amino Acid Spray

2 Vinyl Sauna Suits

3 pair of Booties

3 Body Brushes

2 Tape Measures

30 Cotton-elastic blend wraps

30 Body Wrap Brochures

30 Dry Skin Brush Brochures

30 Client Measurement Charts

30 Pair Body Wrap Technician Gloves

1 Pair Insulated Gloves (to lift hot wraps from warming oven)

1 Internal Cleansing Book

1 Body Wrap Training Manual

1 Body Wrap Training Certificate of Completion
For the New Day Spa or Salon Owner:
Miracle Gel ( which is a combination of Aloe Vera and Seaweeds) is our most popular product, and when combined with dry skin brushing produces noticeable results in the salon or at home. Sell the Miracle Gel to your clients for home use after introducing it in combination with our Aloe Vera and Mineral Wrap formula's. Our herbal body wrap formula cleanses and detoxifies during the treatment plus lose inches also. Our concentrated solutions are the same used in the most expensive salons and produce five times more treatments than comparably priced body wrap kits (3.20 per treatment) and with this kit only, you can choose from any of our formulas.
This Seaweed or "sea clay" Sea Mud, and Mineral recipe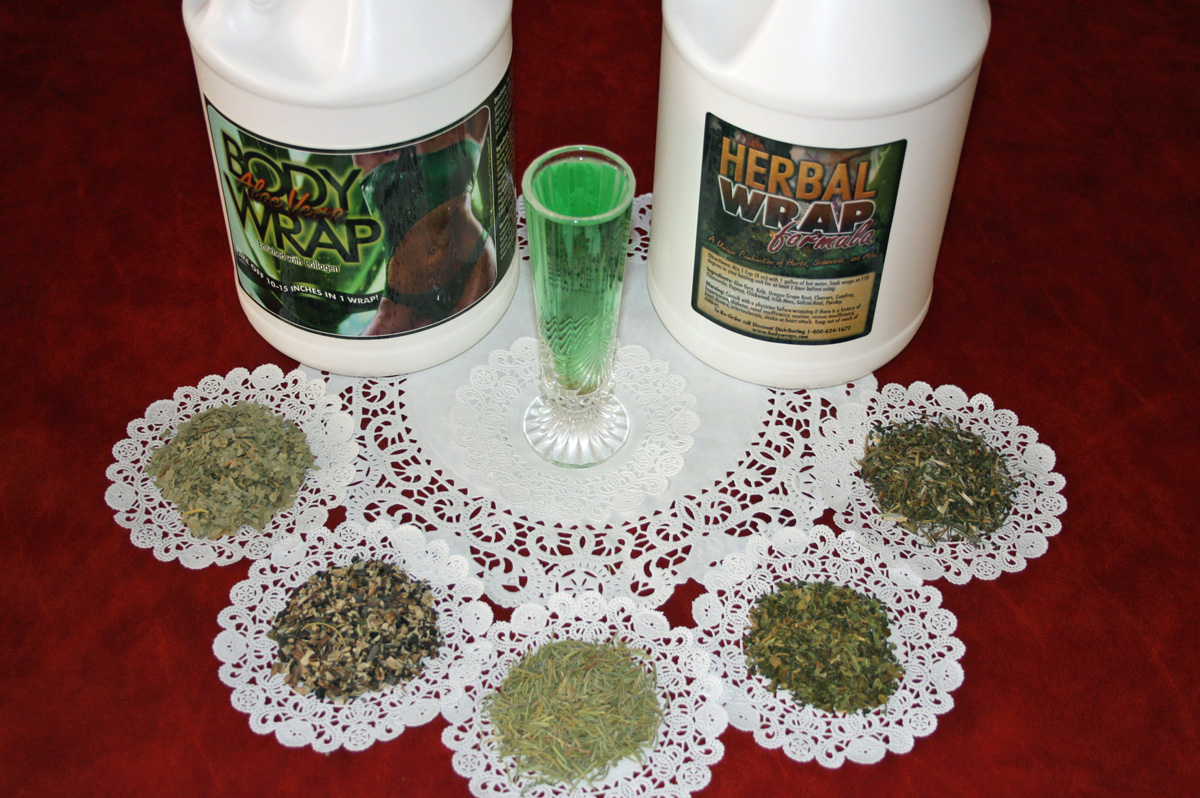 can be used forvarious spa type services providing many benefits. This start up kit is a great way to get started with to start your own body wrap business Shown here is our Aloe Verbal collagen enriched formula and all the natural ingredients we add to the Herbal recipe you can choose with this package. We use all natural ingredients with each of our formulas!
Check out our complete list of body wrap kits here and our extensive collection of body wrap supplies at whole sale prices here. All other Internet body wrap suppliers charge up to $80 for 2-10 treatments, where ours provides 30-40 on average and our clients buy the exact same body wrap recipes we ship to the most exclusive salons and spas worldwide. Learn how to start your own body wrap business, get more body wrap information, or return to our home page here.
---
Terms Of Use | Returns | Site Map | Email Us | Phone: 888-612-3886 BodyWraps.com © 1998 - 2013 Discount Distributing: 540 St Johns Street, Cocoa, FL 32922